One of the things that makes a place feel like home is having a local eatery – the place that becomes a part of your daily routine, where you take the family after a busy day, or somewhere that the mere mention of sets off cravings.
Looking to unearth the go-tos of Weston, we canvassed members of the local community Facebook page, Weston Village Neighbours, for the local joints at which they filled their bellies on the regular. The response was tremendous! From long-standing pillars of the community to up-and-coming hip spots, from unassuming cheap eats to drool-worthy jerk chicken, burgers and tacos, here are the places where the locals who know go – including some spots in nearby Mount Dennis and Pelmo Park.
WESTON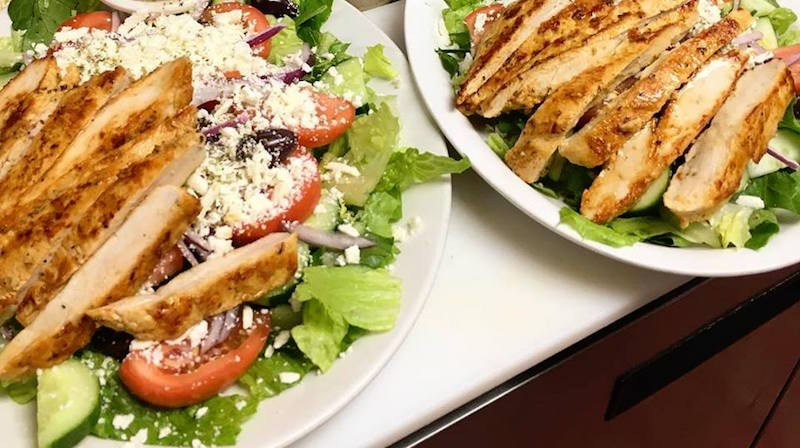 COMFORT FOOD
P&M Restaurant (pictured above)
Known for its friendly staff and large portions, P&M is a local institution in Weston and has been dishing out comfort food, like fresh halibut and chips, all-day breakfast, and authentic Greek dishes for over 40 years. Originally located a few doors down from it's current location, the restaurant expanded to its larger digs in 2015 to make room for its loyal customer base. As one local says, "Go there with an empty stomach!"
1946 Weston Rd. – https://www.facebook.com/pg/pandmrestaurant
Zeal Burgers
As you walk past the glass-pane windows of Zeal Burgers on Weston Rd., you'll see a giant sign that says "Don't lick the window." While that might seem strange at first glance (after all, who would lick a window?!), it makes much more sense once inside. With burgers made with steak ground on site and topped with crispy onions, the food at this local joint is, indeed, drool-worthy. That's to say nothing of the Greek Fries, which are topped with – wait for it – caramelized feta cheese!
1926 Weston Rd. – https://www.facebook.com/zealburgers
Continental Noodles
It's been rolling out fresh sheets of noodles made from "Nonna's recipe" since 1967, it bills itself as the "#1 pasta place in Ontario," and it sells over 50 types of noodles (including gluten free). Continental Noodles also happens to be a local favourite among Westonians. The eggplant parmesan and lasagne get shout outs, and a variety of frozen and prepared foods are available for easy weeknight dinners. Says one local, "On Wednesdays they give you free fresh pasta with every $10 spent."
1664 Jane St. – http://www.continentalnoodles.com/

Sun Crisp Fish & Chips
One of Weston's oldest and most respected businesses, Sun Crisp Fish & Chips is everything you'd expect in a classic fish shop: retro sign, unpretentious interiors and good, fresh fish. With a $6 special and seniors day every Wednesday, this is a true local gem.
2047 Weston Rd.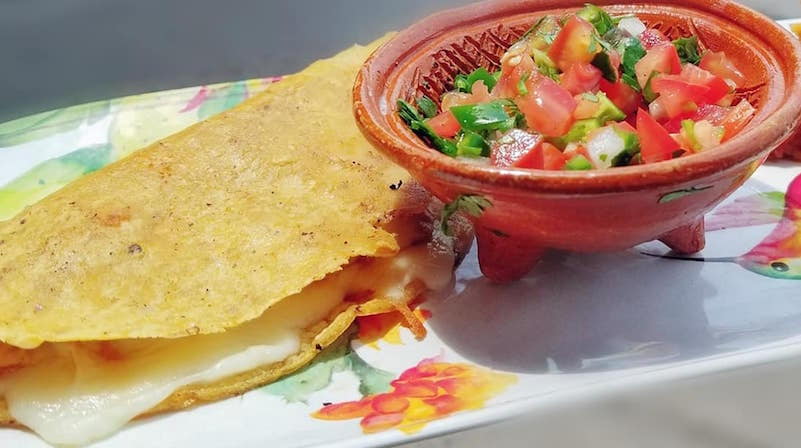 AROUND THE WORLD
Comal y Canela (pictured above)
When Mexican restaurant Comel y Canela opened earlier this year, one reviewer was conflicted. So entranced with the food and decor, the impulse was to NOT tell people about it. "I desperately want to keep it secret from you, because it is a hip, gourmet Mexican restaurant right here in Weston," the wrote. The secret to the outstanding food lies in the cooking methods, according to the restaurant owners, with hand-hammered copper pots, handmade clay pots, and volcanic rock grinding stone mills contributing to the authentic Mexican flavors.
1692B Jane St. – https://www.comalycanela.com/
Buddha Chay
For flavourful and fresh vegetarian food, locals love Vietnamese resto Buddha Chay. Tucked in an unassuming beige brick building on Jane, north of Lawrence, Buddha Chay serves up veggie versions of Vietnamese classics like pho and banh mi, as well as spring rolls, noodles and more.
1784 Jane St. – http://buddhachay.ca/
Lutong Pinoy
Literally steps away from the future home of The Humber sits Lutong Pinoy, a family owned Filipino restaurant on Weston and Wilby. With a varied menu from all regions of the Philippines, the specialty here is Ilocano dishes like caldereta, kilawing kambing, igado and pakbet, plus Filipino desserts like leche flan, cassava cake and ube halaya. They also cater, and can accomodate parties of up to 40 in the restaurant.
1754 Weston Rd. – http://jgarma29.wixsite.com/lutongpinoy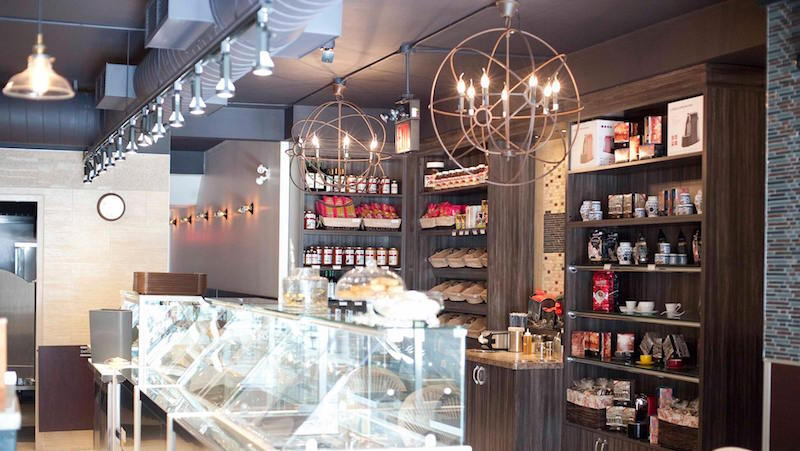 COFFEE SHOPS
Perfect Blend (pictured above)
Bright and clean and right in the heart of the Weston strip, Perfect Blend specializes in specialty coffees, crepes, paninis and ice cream. Their croissants come recommended – especially the almond ones – and the stylish room is often full of locals sharing a cup and good conversation.
1971 Weston Rd. – www.perfectblend.ca
Mati
The newest coffee shop on the main drag of Weston Rd., Mati coffee is owned by an Ethiopian family as specializes in coffee blends from that region – naturally. The shop's breakfast combo comes recommended, which for only $4.99 includes coffee, a breakfast sandwich and a donut. But it's the samosas here that standout, say locals. In addition to being sold in-store, Mati's samosas are also available at the Weston Farmers' Market each Saturday.
1947 Weston Rd. – https://www.westonweb.ca/matis-coffee-official-opening/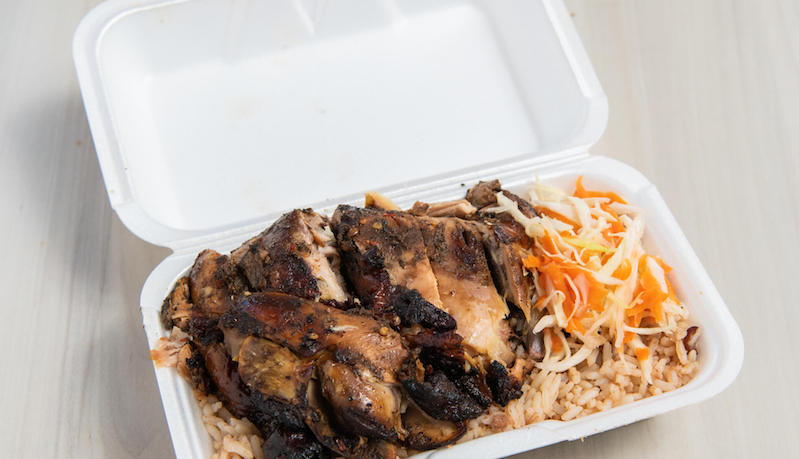 JERK CHICKEN

With a large Caribbean population, Toronto is blessed with some excellent jerk chicken choices. Across the city there are places to snag a spicy and succulent plate of chicken, rice and beans. Weston is not lacking for such options. When asked what residents like to eat, jerk came up repeatedly. The recommended spots range from cheap and cheerful to authentic and adventurous (at least to Canadian tastes). Whether it's the lunch special at Kitchen King Jerk that the Options teams simply described as epic, or the diverse menu at The Jerk Box, which includes typical curries along with liver, kidney and cow foot, great jerk is easy to find in Weston. Here's a round up of suggestions.
Kitchen King Jerk (pictured above)
2079 Lawrence Ave. W – www.kitchen-king-jerk-inc.com/
Lloyd's Jerk Chicken
1710 Jane St. – http://www.lloydsrestaurant.ca/Menu_Jerk_Chicken.html
The Jerk Box
1682 Jane St. – http://www.thejerkbox.com/
Tunup Islands
1542 Jane St.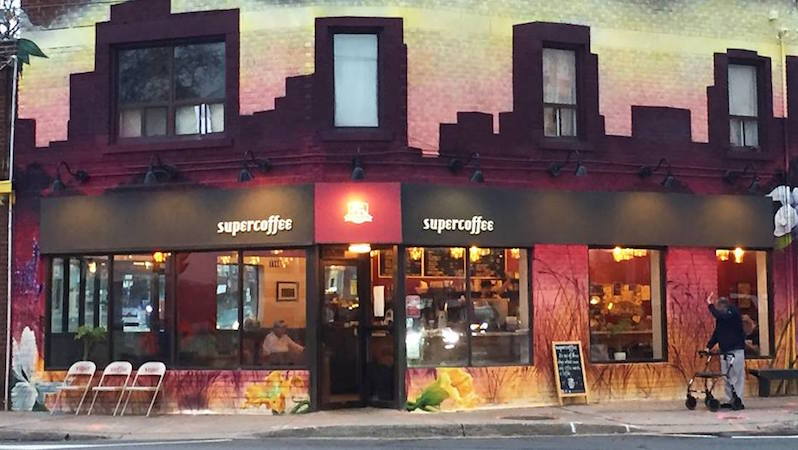 MOUNT DENNIS
Drive south on Weston Road and the Weston neighbourhood gives way to Mount Dennis, the main strip of which runs from where Weston Rd. and Jane St. intersect, down to Eglinton Ave. Mount Dennis holds neighbour-favourites such as: Super Coffee, a super-cute coffee shop marked by a giant mural at Weston and Eg; V's Caribbean, a vegan and vegetarian take on island food; and Golden Crisp Fish & Chips, a family-run neighbourhood institution that's been slinging crispy fish and fries since 1961.
SuperCoffee (pictured above)
1148 Weston Rd. – http://supercoffee.ca/
V's Caribbean
1221 Weston Rd. – https://www.blogto.com/restaurants/vs-caribbean-restaurant-toronto/
Golden Crisp Fish & Chips
1354 Weston Rd. – http://fishandchipstoronto.ca/


PELMO PARK

Up toward the 401 is Pelmo Park, another Weston-adjacent neighbourhood. This is where you'll find major amenities like the Real Canadian Superstore and the Crossroads shopping mall. It's also home to other recommended eateries, specifically: Ginger Pho, a bright and spacious noodle spot; Wakame Sushi, a popular and stylish sushi spot in Crossroads mall; and family Italian resto Jolly 2, complete with homemade gelato and large patio.
Ginger Pho (pictured above)
2590 Weston Rd. – http://www.gingerpho.ca/index.html
Wakame Sushi
2625F Weston Rd. – https://www.facebook.com/pages/Wakame-Sushi-Japanese-Restaurant/974144626026003
Jolly 2
2625 Weston Rd. – http://www.jolly2.ca/