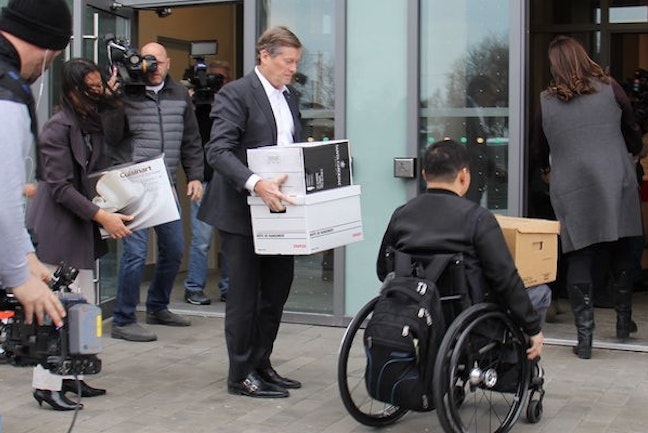 One of the most gratifying aspects of developing housing is seeing purchasers move into their new homes. In December, everyone at Options for Homes was thrilled to welcome some of the first residents of Danforth Village Estates to their new home with the help of a very special guest – Mayor John Tory.
The Mayor hauled boxes for Mila Corpuz and Mel Peña, who were accompanied by their twin toddlers, ushering the family into their new two-bedroom, plus den before taking a moment to celebrate Options for Homes' efforts in providing housing opportunities for Torontonians.
"One of the biggest challenges the city faces is making sure that people of all income levels can afford to live in the city, whether in rental accommodation or having the opportunity for homeownership," said Mayor Tory who was accompanied by deputy mayors Ana Bailão and Glenn de Baeremaeker. "[Homeownership] is something that's important to people and sometimes it just takes a little bit of innovation, a little bit of ingenuity, and people with wonderful ideas like Options for Homes and the cooperation of a lot of partners to make it happen."
With Danforth Village Estates, Options for Homes was able to deliver 250 new affordable homes and helped those with incomes as low as $28,000 purchase a home through the Options Down Payment Loan. In fact, over 75% of purchasers at Danforth Village Estates have household incomes at or below $70,000.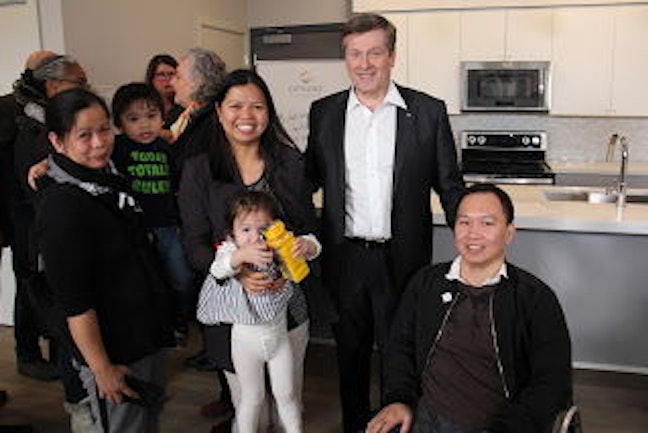 It's how the Corpuz-Peña family achieved their homeownership dreams. When Mila and Mel first came to Canada from the Philippines, Mila was the sole income earner while Mel, who has a disability, looked for work. The couple were able to purchase a bachelor unit on Mila's income, with the help of the city's Home Ownership Assistance Program (HOAP) and an Options Down Payment Loan. But soon, the couple were expecting twins and Mel found work, so they were hopeful they could purchase a larger unit. As Mila said, "We prayed to God for a two-bedroom. He gave us a two-bedroom, plus den!"
While much of the city's attention is paid to ensuring there's an adequate supply of rental housing in Toronto, Mayor Tory acknowledged that partnerships like the one between Options for Homes and Deltera, and support from government (the City of Toronto deferred development costs on 150 units at Danforth Village Estates allowing Options to offer more down payment support), are vital to a healthy housing ecosystem.
"The housing issue is not going to solve itself. It's going to be solved through partnerships like this," Tory said. "That's why we're able to be here today, demonstrating again how [with partnerships] we can achieve real, meaningful progress. So I want to thank the Options for Homes people for being good partners with the City of Toronto so that we can not just build the affordable rental accommodation we end up talking about more, but also making affordable homeownership something that is an option for people here in Toronto."
See CP24's coverage of the day here: https://www.cp24.com/video?clipId=1287868
Check out what CTV had to say about it here: https://toronto.ctvnews.ca/mobile/video?clipId=1285007