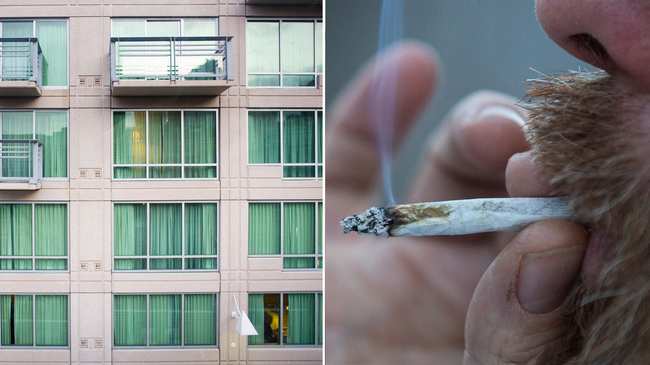 Photos via Wikimedia Commons/Lars Hagberg, Canadian Press
For Toronto condo developer Options for Homes, the term "family friendly" has a very specific meaning—no smoking or growing weed.
The non-profit developer is currently building a 22-storey tower north of downtown called The Humber, named after the river nearby it. When completed it is billing itself as the first smoke-free condo in the Greater Toronto Area.
While in the planning stages, Options surveyed 7,000 of its potential purchasers about a smoke-less policy—75 percent said they would be more likely to buy a condo in a smoke-free building, meaning a ban on smoking both weed and tobacco. But Options decided on a compromise—it will allow vaping cannabis and nicotine in its suites, but not in common areas.
While Canada legalized weed last October, the scent of cannabis—sometimes compared to that of a skunk's spray—isn't one that everyone is comfortable with yet. A recent survey by Buzzfeed News and others found that 57 percent of Canadians either dislike or hate the smell of weed in public, while 51 percent of Americans characterized it as a problem. While the issue may sound trivial, it can have serious implications on policies around housing, public consumption, and even large-scale cannabis production sites.
Mary Pattison, Options for Homes' director of sales and marketing, told VICE the company wanted to strike a balance between mitigating the smoke and odour that comes from weed and allowing people to partake in a legal activity. Vaping hardly has any smoke, she said, and the smell dissipates fast while people who actually want to smoke can go to the nearby park.
"We don't want to be making a judgement on a particular lifestyle. This is not about cannabis, this is about smoke in general."
However Pattison said the ban on growing was thrown in because of the "negative connotation" around growing weed and the odour that comes with it, noting that condo boards have the right to change policies based on what homeowners decide.