You know that feeling when time just seems to fly by? That's what 2018 has felt like at Options for Homes. These days we're often found marvelling that 2019 is just around the corner! But as is customary at this time of year, we've taken a moment to reflect on the year that was.
2018 was a busy year full of milestones, growth and excitement. We began the year celebrating the topping off of Village by Main Station and we're ending with the official registration of Danforth Village Estates – the final step that transfers ownership of the building to its purchasers! In between, we launched The Humber, our newest development at Lawrence and Weston.
Next year, being our 25th anniversary, is sure to be filled with all sorts of goodness but before we go there – a quick round up of what made 2018 one of our most exciting years ever!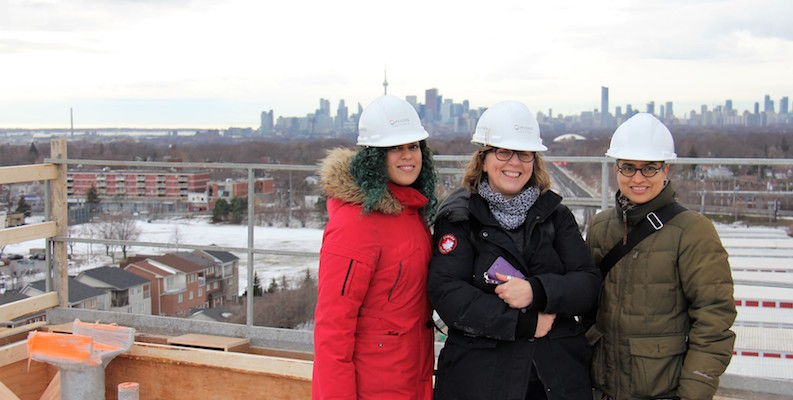 We had a rooftop party
2018 started off on a high… literally! Just after returning from the holiday break, Options and Deltera celebrated the roof being installed at Village by Main station. a significant milestone in the construction process at Danforth and Trent Ave. Blessed with seasonally warm temperatures, we made sure to stop by the soon-to-be new digs of three of our own Options staff before heading all the way up to marvel at the city views from the top of the building. In the time since, Deltera's team has made incredible progress, and we are so thrilled that the first purchasers began moving in on December 3rd.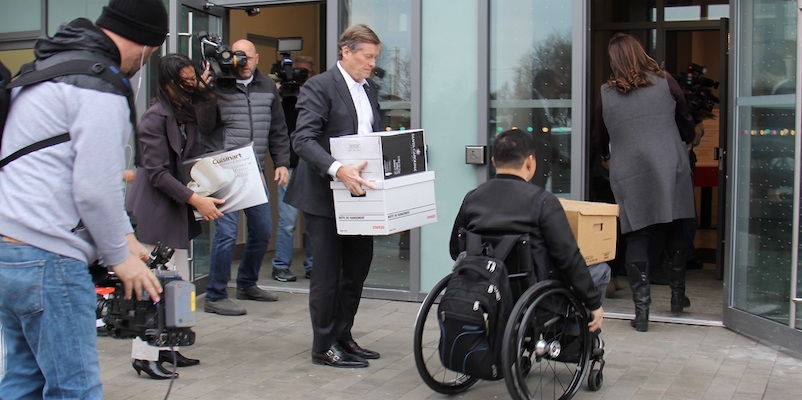 We said "Welcome Home" to 250 new households
Around the same time, we welcomed 250 new households at Danforth Village Estates in Scarborough. In late December of 2017, Mayor John Tory joined us at DVE as he helped some of the first families move in. Since then, the building has come to life as everyone moved in and got settled into their new homes.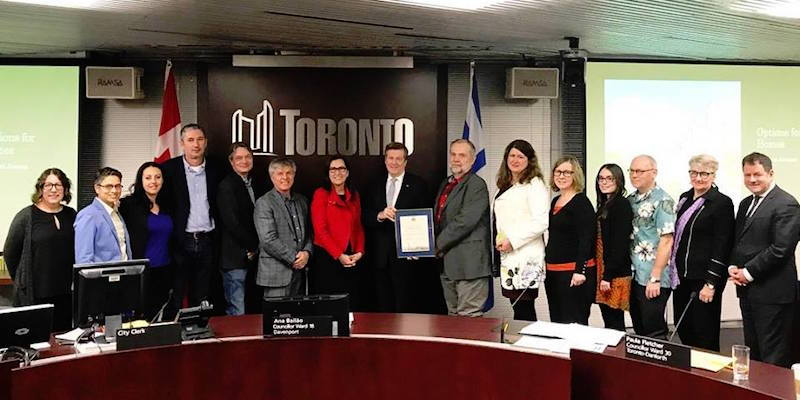 We were given an Affordable Housing Champion Award
In March, Options was recognized by the City of Toronto as an Affordable Housing Champion. During a ceremony at City Hall, the City's Affordable Housing Committee bestowed 18 companies with a Champion award. Together, the group of honourees represented 1,094 affordable homes in 20 developments across 12 city wards, which will be ready for occupancy between 2018 and 2020. Ten of our staff accompanied Options CEO Heather Tremain to accept the award from Mayor John Tory and the city's Affordable Housing Champion Ana Bailao. We couldn't have been prouder!

We launched a new website and new ad campaign
Nothing puts a spring in your step quite like a new look. This year we launched a new website designed to create a better user experience and drive home our message of empowerment. We then carried that through to our TTC advertising. Combined, these efforts allowed us to welcome over 70,000 unique visitors to find out how it is possible.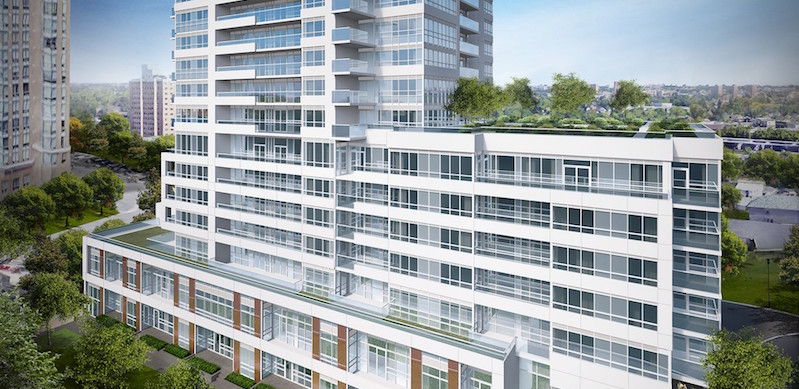 We launched The Humber
Quite probably the most exciting thing to happen around Options HQ in 2018 was the launch of The Humber! After much behind-the-scenes work, we finally unveiled our newest development, which went on sale to Priority Access members in July. This development will be nestled on the banks of the Humber River and is only a 5-minute walk to the UP Express (which gets you to Union Station in only 15 minutes!) If you haven't seen it yet visit TheHumber.ca to find out more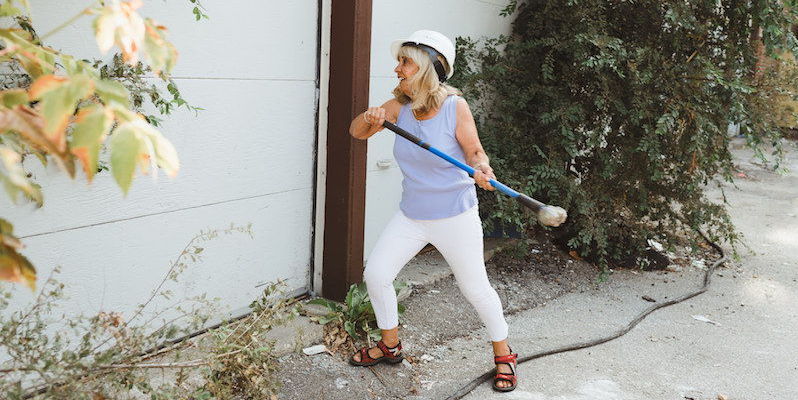 We grabbed sledgehammers and started demo!
On September 17 we reached an exciting milestone for The Humber: demolition. This was the first physical step in building this vibrant new community on the banks of the Humber River on Wilby Cres in Weston. To celebrate the occasion, we had a ceremonial smashing party and man was it fun! Options invited partners and purchasers to don a hardhat, grab one of seven sledgehammers and take a whack at a wall. Even Councillor Nunziata got in on the action!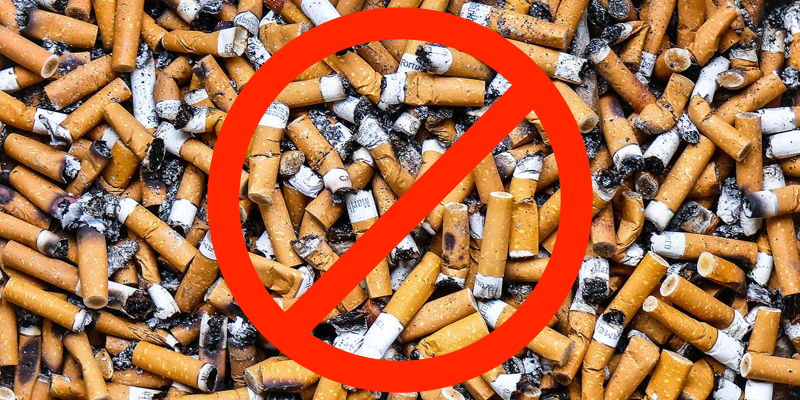 We developed a groundbreaking "Smoke Less" policy
With the launch of The Humber, we also made history in Toronto by designated the building as "Smoke Less." What that means is homeowners are prohibited from smoking any combustibles - think traditional cigarettes or cannabis – on balconies or in their private units, in addition to the customary ban on smoking in common spaces. But vaping is allowed. Why did we make this policy? A survey of potential purchasers, like you, showed that there was overwhelming support for limitations on smoking. We felt that limiting the consumption of tobacco and cannabis to vaping devices mitigates the negative effects of smoking, such as smoke transfer between units and cigarette trash, while respecting individual lifestyle choices.


We discovered 10 things we didn't know about Weston
With the launch of The Humber, we've spent a lot of time getting to know the Weston neighbourhood. As we discovered, there's a lot to learn about Weston and even more to get excited about…
...including the amazing food scene
Check out these 19 mouth-watering places the locals consider go-tos. How lucky are they?!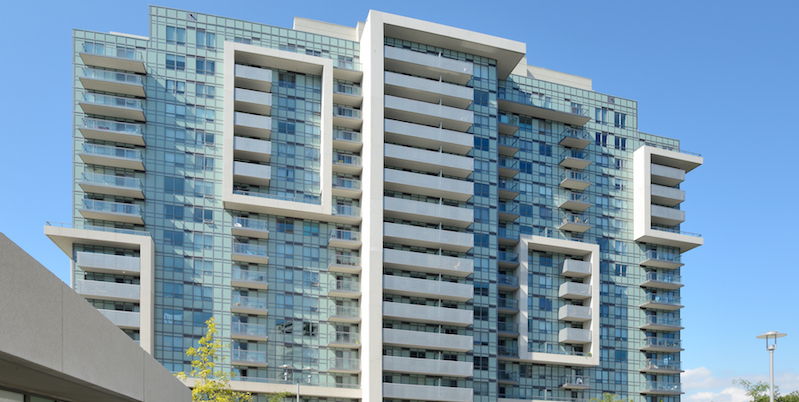 We completed our 11th community
The completion of Danforth Village Estates this year marked our 11th completed development since we first began in 1994. That's 2,750 homes for nearly 5,000 people. We're on track to hit numbers 12 and 13 in 2019 with the pending completion of Village by Main Station and Jasper Condos!

We added 5 new staff positions...
A true sign of our commitment to growth, this year we added five new positions to the Options staff across all departments, including Client Success, Development, Sales, Marketing, and Finance. The new team members are how we're able to better serve our clients at each step of their homeownership journey and will support our plans to scale up to meet the need for affordable home ownership.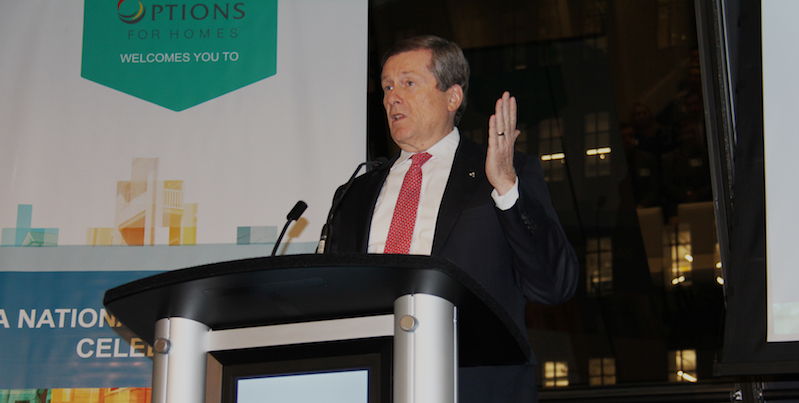 We hosted a National Housing Week event
Together with our co-host Canada Mortgage and Housing Corporation (CMHC), Options was proud to host nearly 200 housing professionals for the kick-off event of National Housing Week, a week in November when those in the housing sector get together to discuss their common ground and goals. Our special guest speakers included Mayor John Tory and CMHC Vice President, Affordable Housing Client Solutions, Debbie Stewart. Each shared their government's plan for addressing the critical need for access to affordable housing.
We met 2,000 people at Condos 101
It's true that we no longer require people to attend Condos 101 before they can purchase with Options. Still, it's an incredibly valuable and informative session, and is an opportunity for people interested in Options properties to meet our staff and ask questions. It seems people agree: over 2,000 people attended Condos 101 over the course of 2018. From our perspective, these events are great because we get to meet you, our future purchasers.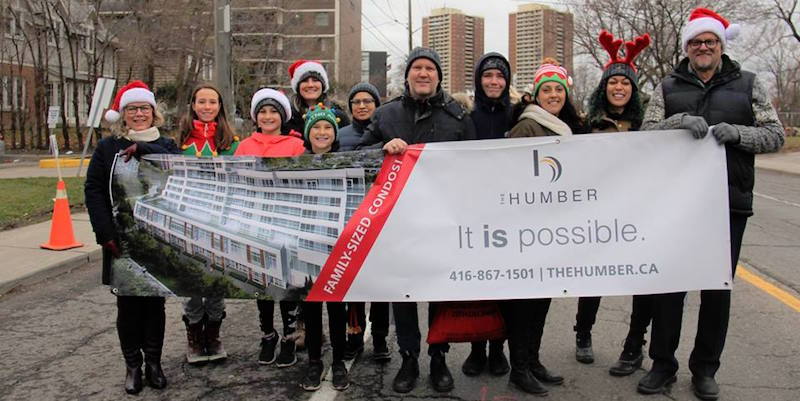 And finally, we marched in a parade!
With weightier matters behind us, the Options staff grabbed their Santa hats and children and headed out to represent The Humber in the Weston Santa Claus Parade. An amazing community event that saw the neighbourhood street lined with people, young and old, the parade was an awesome chance to see how vibrant and engaged the Weston community is. Plus, we had pockets full of candy canes!